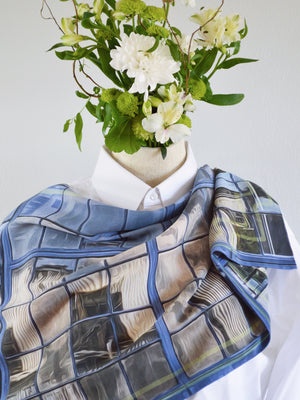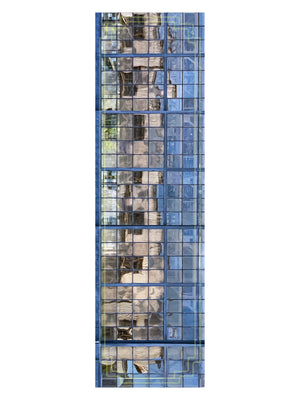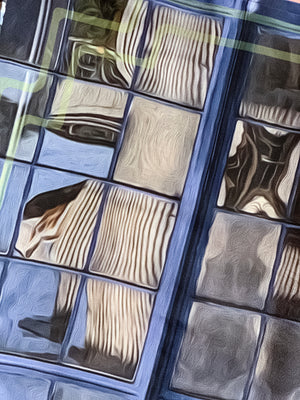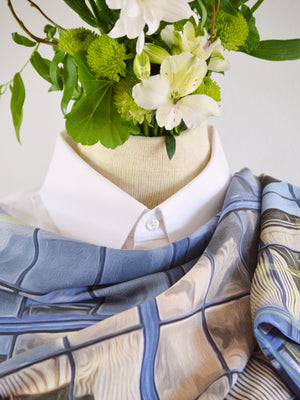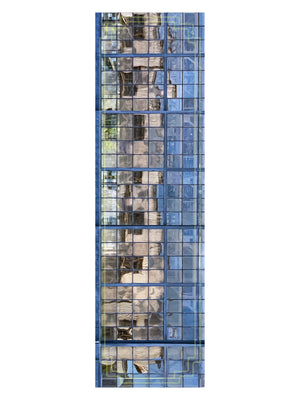 REFLECTION
Silk scarf from the new Elements Collection. Original LILLAGREN fabric design, handcrafted with two luxurious layers into sturdy and versatile usable art. Each scarf is sewn with silk thread and hand-stitched ends. Printed in the USA with bio-degradable, non-toxic inks on organic silk crepe de Chine. Made in Seattle. 19 x 63 inches.

Reflection is a likeness given back as if by a mirror. Consideration of some idea or purpose. This image of repurposed airplane hangar windows shares both inside and reflected details of an adjacent building.

SCARF CARE
Silk is a natural fiber that responds to heat, cold and moisture. The fabric is durable in a variety of climates. Each Elements scarf is hand-washed, pressed and steamed before it leaves the Lillagren studio. The non-toxic pigment inks used in printing make the scarf a bit more rigid when new; it will continue to soften with time and wear. Please hand wash the scarf when necessary in neutral water with a gentle cleanser; rinse well; roll flat between towels to remove excess water; hang or lay flat to air dry; use a steamer or iron as needed. Traditional dry-cleaning is not recommended.